Find a Better Balance in Supply Chain Execution
An Integrated, Bottoms-Up Approach to managing Service and Profitability
Finding the right balance between your inventory, service and profits is essential to Supply Chain success. Optimizing Inventory and Customer Service results in higher profits and happier customers: When you have the ability to Optimize Profitability and Service for each SKU down to the Store/Shelf you greatly improve customer service and your bottom line. 
There are four key elements that drive your results: Inventory, Demand Forecasting, Customer Service, and Lead Time. The challenge comes from these elements being inter-dependent and changing constantly. Managing supply chain execution is a balancing act— daily critical decisions are being made that impact profitability, cash flow and customer service levels. The ability to model, track, and optimize these key factors daily gives you the ability to lower your inventory and meet your customer service and profitability goals.
Our systematic and integrated approach gives you the ability manage inventory with a high level of precision. Our decades of experience in scientific inventory management along with our new design provide a solution that adapts to change and maintains a daily balance between these elements—a key to effectively managing your business.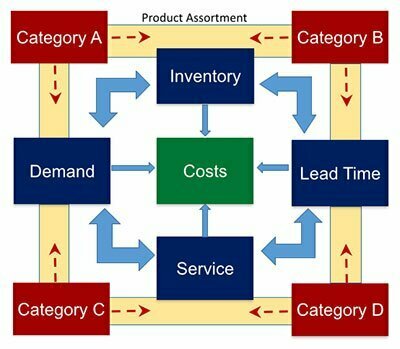 Herlitz IM HIMPACT supply chain execution solution for wholesale and retail provides: Demand Forecasting, Inventory Replenishment, Order Optimization, Promotion and Forward Buying. Our new and innovative solution gives you tools to manage your business: optimize inventory and optimize customer service; finding the right balance that results in higher profits.
Our Demand Forecasting, Service, Lead-time and Inventory Optimization models reliably balance the relationship between inventory and customer service, identifying the right inventory levels to deliver your customer service at your targeted levels.
Manage from the bottom-up—Service and Profitability are managed for each unique Product-Location.  This is significantly different than the "One Size Fits All" traditional method of setting service level targets by product category/sub-category or ABC codes based on product velocity–none of which take profitability or service into account.
HIMPACT provides tools to tailor your business strategy to each channel and optimize each segment of your business. In one channel/segment, your goal might be to maximize profitability–we provide tools to maximize your profitability for each Product and Location combination.
In other channel/segments, your goals might be higher levels of customer service, HIMPACT provides the ability to manage actual customer service levels, measuring the attained service vs planned goals, offering recommendations to adjust planning factors to proactively manage service. This ensures your ability to meet your customer expectations down to the Product-Location level.
Higher sales and profits are the result of HIMPACT's new methodology, daily forecasting and analytics. Its unique features and tightly-integrated approach deliver results:
⇒ Inventory Reductions of 15% to 40%, with Same or Increased Service
⇒ Increase DC Fill Rates by as much as several Percentage Points
⇒ Significant increase in Store Sales
⇒ Lower overall Transportation, Handling and Products Costs
Delivered as on-site software or a cloud-based service, HIMPACT optimizes buying decisions and leverages available economies of scale. With a low total cost of ownership, HIMPACT improves bottom-line results in under 90 days and delivers a quick ROI.