SALSA & Daily Demand Forecasting
Automate forecasting and free up buyers to concentrate on the crisis of the day. 
The Service And Lost Sales Analyses (SALSA) feature in HIMPACT can keep buyers from having to manually manage their forecasts. SALSA automatically scrubs out when customers place repeat orders. Since HIMPACT reforecasts every item every day, just 7-10 days into the pandemic, forecasts had automatically adjusted to the new levels. For example, this Paper Towel forecast jumped from the typical 300-400 to 1,100-1,300 a week during the first 2 weeks of the pandemic shutdown.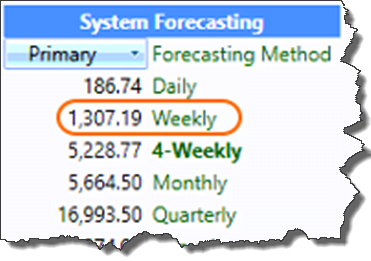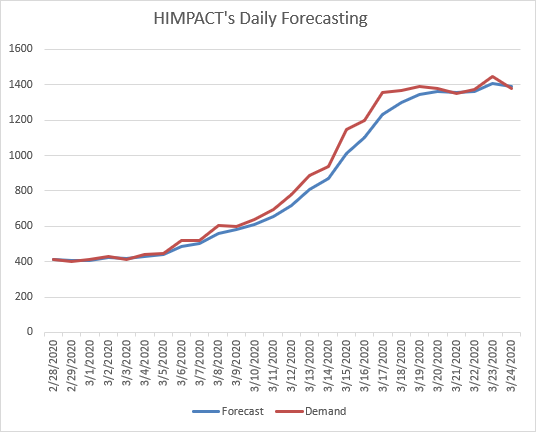 Fast forwarding, as of April 22, the demand has stayed around 1,250 a week for 6 weeks now.
Our wholesale grocer customers all work with their customers on a ship and cancel basis. During periods of extended out of stock, these customers tend to place repeated orders until they receive what they ordered. This creates a situation where perceived demand is overstated in the customer order entry data.

When we drill into who has been placing repeat orders, we see one store ordered 25 units on Tuesday, March 17 and there was nothing left to ship. As a result, the entire order was recorded as Lost sales. Since they didn't receive any paper towels from their Tuesday order, on Friday, March 20th, this same store ordered 25 units again. SALSA automatically detected this as a repeat order due to an out of stock situation and prevented this demand from going into the forecast. "XO/E" stands for excluded from order entry. This repeat order was for 25 units and we excluded all 25.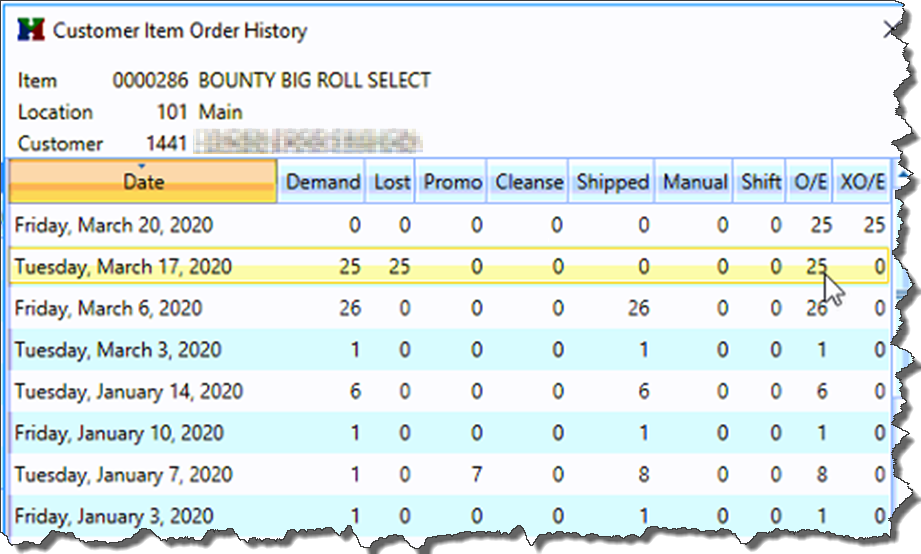 With their forecasts in place, reordering was done quickly. Now, these buyers can devote their time to the crisis of the day and know that replenishment POs are still being placed. All buyers can take advantage of the SALSA feature in HIMPACT. Utilize it today and place replenishment orders quickly so you can focus on more important matters at hand.
Use Tags to Track Items with Sudden Demand Level Spikes
As we move into yet another week of fighting off the pandemic, we wanted to offer additional support and tips for how your team can stay ahead during COVID-19. Please continue to stay on top of your Alerts. Also, as mentioned in our previous update (see below), continue evaluating if the items are through their pipeline fills and are stabilizing at the current demand level or if the current demand level still represents refilling EVERY shelf.
This week, we want to cover how we can mark your items that have seen a sudden spike and change in demand level. There are a few different approaches that we have used over the years. Feel free to contribute one of your own by emailing our support team:
We look for any item that saw a one-day jump in the forecast of over X% for any date range.

For Grocery customers, e.g from March 9-20, mark any item that saw at least a 50% jump in its forecast.

We can flag any item which has a current forecast more than X% now compared to March 9th, for example. Remember that this will work fine on seasonal items as long as you have seasonal profiles.
For Grocery & Wine & Spirits customers who also sell to restaurants, you can provide us a list of customers who may have stopped ordering or dramatically changed ordering from you during the crisis but will be back to normal suddenly.

For example, we can mark items that your foodservice customers buy so we can adjust forecasts back to their pre-crisis levels on the day you tell us to do it.
For pet supply customers, we can mark items that saw an X% drop in demand from March 9th to now and adjust forecasts to their old levels when the stay at home restrictions drop.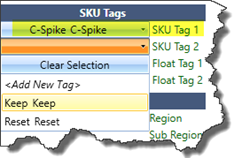 However we decide to mark these SKUs, we set the SKU fixed tag with "C-Spike" for example. Then, over the next few days and weeks, you can set your view to SKU Fixed Tag 1: C-Spike and review these items. If you know or feel that the demand will snap right back to the old level, you can set the SKU Fixed Tag 2 to "Reset". If you believe the current demand level will stay or that it will more slowly ease back to the previous level of demand, then you would select "Keep".
If you and your management team want to explore these options further, please reach out to schedule a meeting and we'll go over this in more detail.
What to do during COVID-19
Due to the COVID-19 outbreak, we've been providing different ideas about short term and long term strategies for dealing with the current change in demand patterns and forecasts. Your managers should have received those detailed reports and PowerPoint files by now.
However, what should you as buyers be looking out for right now, this week, and next week?
Since we update our forecasts daily, you should have noticed that the current forecasts have reacted to this sudden change in the demand level. Today, we are covering how much of that is pipeline fill and how much is the new, temporary reality.
First, you have seen a bunch of items with crazy spikes in demand because, for many items, all shelves at all stores were empty. This means you saw a pipeline fill event. For many products, where you are not seeing extreme vendor allocations, you may still be seeing pipeline fill events because many consumers in many regions are stockpiling these products. 
For other items, you will only see the one pipeline fill. We saw that HIMPACT did a lot of Spike Cleansing during the first week, but it didn't catch every item. Now that you are a few weeks into this, please take the time to use the Scrub page to chop the tops off those pipeline fills. If you don't want to classify them as Promo, call them Shift. When you are done scrubbing, you may want to re-forecast.
Secondly, because of the chaos that is your day, many of you have fallen behind on checking your Alerts. Remember that you can go back in time and review alerts for any date range (we only save them for 4 weeks though, so don't wait too long). Working these Alerts, the Spikes and Trending Up, in particular, will help identify items that you may wish to scrub in your history.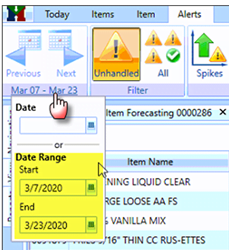 If you have any further questions or need additional information or training, please contact Bryan Cox, Manager of On-Boarding & Buyer Support at bryan@herlitzim.com.