Carl Herlitz | President & CEO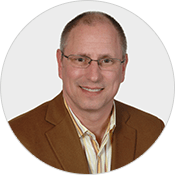 With over 20 years of experience in the software industry, Carl brings his customer-centered focus and passion for designing new systems that ease execution and increase productivity to the company. Having worked with hundreds of customers improving their Demand Chains, he brings this knowledge and experience forward for HIMPACT's unique functional design and user interface.
Carl led E3's European Division in the 1990′s, opening offices in Germany, France, Italy, Spain, and the UK. Starting his E3 career in 1990, he worked both in software design and development for several years, helping to build several key products.
After his return to the US, Carl served as Vice President and Chief Technology Officer, working on the development of advanced applications. Carl has worked with customers' Top Executives and trained Buyers in Swedish, French, German and English. He has extensive experience managing Sales, Consulting and Technical staffs supporting solutions in Purchasing and Inventory Management.